Is your workplace beginning to use zoom for online meetings?. I'm Smyth rom cekprinter.com and in this article I'll show you how to register for a zoom account.
How To Sign Up Zoom

To begin go to zoom.us in your browser. Then click the signup button in the top right corner. Now you can register with your work email address, or with a Facebook, or Google account.
If you're only using zoom for work we'd recommend signing up together with your email address. Click sign up. Zoom will then send you an email with an account confirmation link, find the email in your inbox, then click activate account.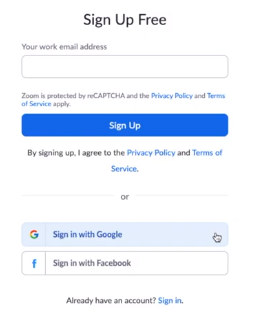 To finish creating your account type in your first name, last name, and a password into the designated text boxes. Make sure your password meets the required parameters including at least eight characters at least one letter, at least one number and including both upper and lowercase characters.
Passwords also cannot contain consecutive characters like one two three four or ABCD. When you're finished click continue.
Invite Colleagues in Zoom
Next you'll invite your colleagues to check in for zoom by entering their email addresses, or click skip this step and you'll send them this tutorial artilcle instead.  Read Also: How To Use Zoom.
Now you're all set to start hosting your first meeting. Click start meeting now to begin a meeting in your personal meeting room.
From there you can click in right at the bottom to send invites to your colleagues through email, or use the copy URL function to easily send them the meeting room link on your workplaces instant messaging system instead.
That's all it takes to sign up for zoom video conferencing. Thanks for reading.