Having trouble deciding between Spotify and Apple music?  We're here to help, I'm Smyth from Cekprinter.com and in this article I'll be comparing Spotify and Apple music to help you figure out which one is best for you. Now let's get started.
Spotify VS Apple Music, Which Best?
Here's an overview of what we'll be covering in this review. Feel free to skip ahead to any of these sections if you like. Let's begin with an overview of each service.
Spotify Overview

Spotify has been around for over a decade now. Having started in 2008 it's available for use on a wide variety of devices and offers, a library of millions of songs and podcasts to listen to. Here are a few pros and cons of Spotify.
Pros
Available on many platforms,
Offers free and premium memberships
Has a podcast section
Great music discovery system and more
Social sharing options than Apple music
Cons
In consistent free trial offers
Less intuitive interface
Smaller music library than Apple music and
Limited offline access to songs
Apple Music Overview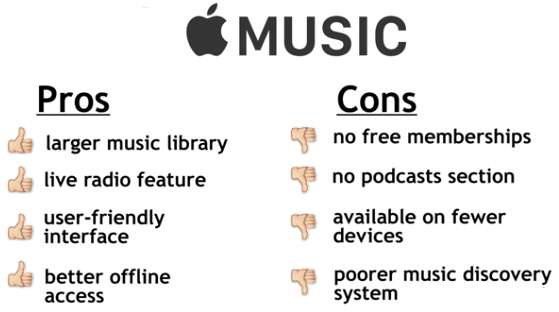 Now let's have a look at Apple music. It's a newer music streaming service having started in 2015. Being connected to Apple's iTunes offerings it has a larger library of music than Spotify, and also offers live radio. Here are some pros and cons of Apple music
Pros
Larger music library
Live radio feature
User-friendly interface and
Better offline access to music
Cons
No free account option
No podcasts
Available on fewer devices and it's
Music discovery system isn't as good as Spotify
Compare Spotify vs Apple Music
Let's compare membership pricing between Spotify and Apple music. While both offer free trials only Spotify offers a free membership that comes with a few limitations like only being able to listen to playlist and shuffle mode, and having to listen to ads every so often.
Monthly Pricing Spotify vs Apple Music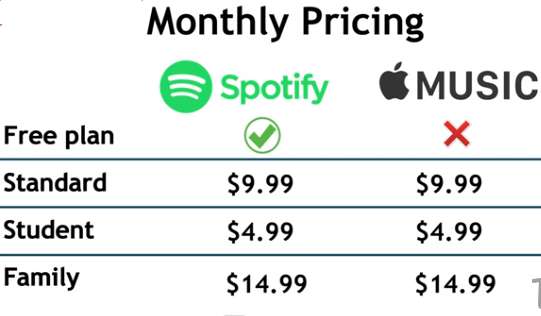 Both Spotify and Apple music cost $9.99 for a full standard membership, $4.99 for a student membership, and $14.99 with a family plan. Because they offer a free option we'd say Spotify wins when it comes to pricing and varieties of memberships.
Music Library Spotify vs Apple Music
Both Spotify and Apple music have huge music libraries available to stream from. Spotify advertises a library of over 35 million songs, and Apple music boasts over 45 million. If you're looking for more selection Apple music is the way to go.
Music Discovery Spotify vs Apple Music
If you like to switch things up and find new artists and playlists to listen to, both Spotify and Apple music have short setup questionnaires that ask you to point out shun resent artists that you like.
From there the two streaming services take different approaches. Apple musics main avenue for discovering new music is through its beats 1 radio service, for professional DJs and music superstars host programs that spotlight the latest tracks and up-and-coming artists. Apple music also has a discovery algorithm that can create weekly playlists based on what you listen to frequently.
Read Also: How to Make Your Own Podcast on Anchor
Spotify has an advanced computer algorithm that helps users find new music they're likely to enjoy, including their discover weekly feature, that gives you new tracks like the ones you love to sample every Monday. As well as a release radar playlist that hits you with the freshest releases from your favorite artists.
We give this category to Spotify as their weekly suggestions tend to be more accurate with their users music tastes.
Social Sharing Service Compare
Music usually sounds better with friends,many music streaming services have integrated social network aspects into their service so that users can compare musical tastes with their friends.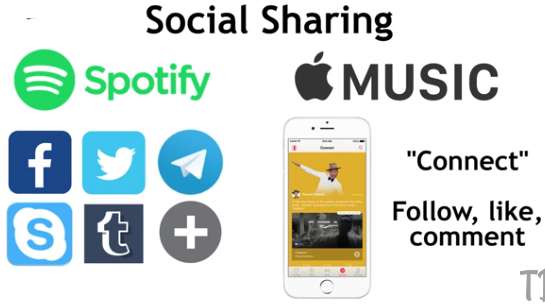 So how to Apple music and Spotify stack up in that regard. With Spotify you can share songs playlist send more over Facebook ,Twitter, telegram, Skype, tumblr and many more social media platforms. you can even set up Spotify to publish your listening history to Facebook where you can discuss it with your friends.
Apple music has a connect feature which is basically a built in miniature personalized social media feed. With it you can keep up with the activity and posts of others you follow, including your favorite artists. You can like posts comment on them and share them.
Read Also: How to Get Dark Mode on All Sites in Google Chrome
This one's a toss-up that depends on your preferences, Spotify overall has more social sharing options. Apple music on the other hand takes an approach similar to traditional social media with all your sharing activity more or less concentrated in one spot.
Overall Spotify vs Applle Music
So which service do we think is better overall. We have to give it to Spotify. We love they're very precise music discovery algorithm, built-in podcast system, the fact that it can be used on so many different devices and the variety of social connection and sharing options. Plus you can use it for free which is always great in our books.
That does it for our comparison of Apple music and Spotify. If you'd like to learn how to use Spotify check out our of more tutorial.
Soure: Youtube.com/Techboomers