One to give Netflix a shot? I'm Smyth from Cekprinter.com, and in this article I'll be showing you how to sign up for a one-month free trial of Netflix. Now let's get started.
How to Sign Up for a Netflix Free Trial
To begin open your web browser and go to Netflix.com. Then clik join now. Netflix has a few different plans to pick from, click See The Plans to check them out.
Here you'll be able to see what each plan has to offer. click on the name of the plan you'd like to sign up for. Then click Continue on the buttom. On the next page click Continue. Enter your email address and a password.
If you don't want to receive emails from Netflix with special offers click the check box below, click Continue. Next you'll need to enter payment information, you can use a credit or debit card, your PayPal account, or a Netflix gift card.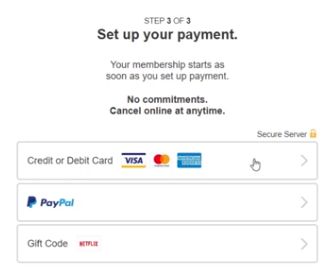 Select the payment method you'd like to use. Don't worry you won't be charged until your free month ends. Enter the information required for the payment method you chose, then click Start Membership.
On the next page enter your phone number in case you ever need to recover your account, then click Continue. Next click the devices you'll be watching Netflix on. At the bottom click continue.
Now it's time to create profiles, you can have more than one profile on your account so that if you're sharing one account between a few people you can keep your watch history, watchlist, and recommendations separated. Enter a name for each profile you'd like to create then click Continue.
If any of those profiles will be used by a child, click the checkbox Labeled Kids, click Continue. To help Netflix give you better suggestions for new things to watch, click on three shows or movies you like, then click continue.
Now you're all set to start watching Netflix. Go ahead and start streaming, keep in mind that if you don't want to continue your subscription after the free trial ends, you'll need to cancel it before the end of the trial month.
That's all it takes to sign up for a Netflix free trial. Thanks for readiing. If you found this tutorial helpful we'd love it if you'd hit the other article. To learn How To Cancel Your Netflix Account click the to our tutorial on