With so many online dating services available these days, it can be difficult to decide which ones to use. If you're not sure which dating service is right for you we're here to help?. I'm Smyth from Cekprinter.com, and in this tutorial i'll be comparing Bumble, Tinder, and Plenty Of Fish (POF) to help you choose the right app for you. Now let's get started.
Comparing Bumble vs Tinder vs Plenty Of Fish
Let's begin with a quick overview of each app. Overview Bumble, Tinder and Plenty of Fish
Tinder Overview
First up is tinder, tinder is one of the most popular dating apps with the younger crowd. It's kind of like online speed-dating, making it easy for you to explore potential matches quickly. It's simple but revolutionary matching system came from the idea that it was easier and faster for strangers to introduce themselves and eventually meet if both knew that the other was interested.
Pros
Quick and easy to set up and use
No unsolicited messages
No time restrictions on sending messages and
Expanded gender options for LGBTQ Plus users
Cons
Narrow age demographic of users
Not generally used by people seeking serious long-term relationships and
You cannot revisit expired matches without premium features
Bumble Overview
Next up we have bumble. It's quite similar to tinder with one big exception. The ladies always get to send the first message, except for same gender matches where either partner can message first. Here are a few pros and cons of bumble
Pros
Quick setup and user-friendly interface
No unsolicited messages
Women message first style can alleviate some pressure and
Bumble can also be used to find friends and business partners with bumble bee FF and bumble biz
Cons
24 hour time window for sending the first message so your match won't expire
Difficult to revisit missed or expired matches without premium features
The optimal premium features are quite expensive and bumble has a smaller user base than tinder
POF Overview
Lastly let's have a look at plenty of fish. Having started in 2003 it has been around longer than tinder and Bumble. In contrast to tinder and bumble swipe mechanics, plenty of fish is a more traditional dating app, favoring questionnaires and specific life features for matching potential partners. Here are some pros and cons of POF.
Pros
Large user base
Available on multiple platforms
Various relationship tests and
Inexpensive premium features
Cons
Requires more information to sign up
Has many restrictions on sending messages
Poor matching system and
No integrations with other apps
So which of these services offers the best free experience? Bumbles main restriction with the free version is that you can only extend the amount of time you have to respond to a match before it expires once per day. You also can't reconnect with your expired matches right away, but you will have the option to eventually.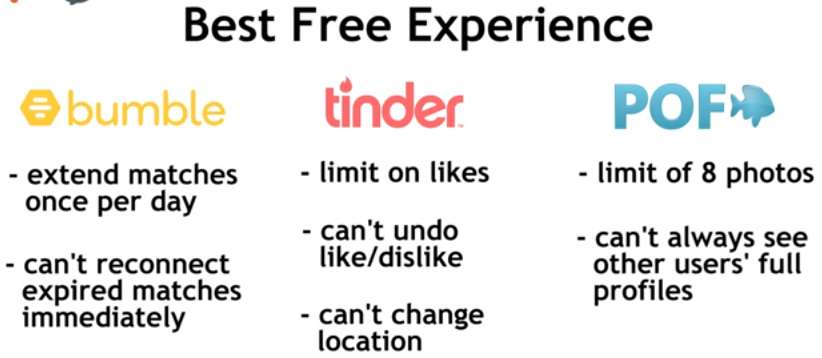 Tinder has rather strict limits on its free use. You can only like a limited number of profiles per day. You can't undo a like' or dislike', and you are limited to matching in your current location you can't change it to search for matches somewhere else.
Plenty of fish has some restrictions too. You can only add eight profile photos maximum and you will always see someone's full profile.
Read Also: Which Music Streaming Service is Best? Spotify vs. Apple Music
Our winner for this category is bumble. Bumbles free option is rather forgiving with its features when compared to the other two.
If you're okay with spending some money on premium, features which one offers the best premium features and pricing. Bumble's boost feature gives you more chances to extend the amount of time you have to message a match before they expire.
As well as immediately reconnect with expired matches, you can also spend Bumble coins for greater exposure to potential matches. Honestly though these features are expensive and don't add much to the free app.
Tinder's plus feature is reasonably priced and lets you do things such as like unlimited profiles per day. Undo your latest dislike. Get more exposure for your profile and even change your location so you can search for matches anywhere in the world. The gold feature just adds the ability to know who has liked you before you choose to like or dislike them.
POF prices for its premium services are pretty cheap and you get a lot of them. You can add twice as many pictures to your profile, extended profile, viewing the ability to send virtual gifts to special users and the ability to search for a user by name, in addition to a host of other profile enhancing perks.
Our pick for premium features is Plenty Of Fish. When it comes to both price and number of upgrades plenty of fish comes out slightly ahead of tinder while bumble lives behind.
Let's face it ladies dating can be tough, especially if your inbox gets bombarded with messages from guys you aren't in the least bit interested in, so which app has your back,
Read Also: How to Get Dark Mode on All Sites in Google Chrome
Bumbles big female friendly feature is that a girl has to send the first message in a match, except in same gender matches. This takes the pressure off guys to make the first move, and off girls to respond to someone they don't end up all that interested in.
There's also a 24-hour limit on sending the first message, so you don't get hung up waiting for a response forever. Bumble also has the option for you to declare what type of relationship you're looking for.
As does plenty of fish plenty of fish also has advanced search features and relationship tests. so you can know and say exactly what you want before you go looking.
Tinder has a few privacy options such as the ability to hide your gender, age, location proximity or even your whole profile. However some of these are unavailable unless you have tinder plus.
Our top pick for the ladies is bumble. Bumble was made for women by women so it's not surprising that it's the winner here.
So what did guys want from a dating app? Maybe something that allows them to be a little more assertive and go for what they want? Bumble forces women to send the first message, and gives them a limited amount of time to do so. Some guys may want to take the initiative in dating and so may not like this feature.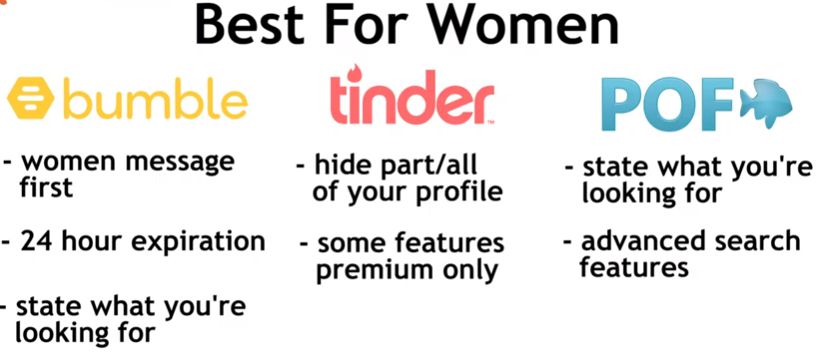 Tinder is more balanced in this regard allowing either user in a match to message first. It also doesn't recycle your potential matches if you pass or delete them. While this may usually be a negative it might be a positive for guys who know what they want and don't want to waste time going back through profiles they're not interested in.
Plenty Of Fish also allows either party in a match to message first. However it has a lot of restrictions on who can message and when, and forces you to fill out a lengthy questionnaire before you get matched.
Our winner for the guys is tinder. Tinder straight into the point approach is probably more appealing to men.
According to anti-bullying charity ditched the label over half of young people worldwide don't conform to traditional gender and sexuality norms. So it's becoming more of a necessity for dating apps to cater to people who don't identify as heterosexual, or with the male-female binary.
Bumble offers the option to search for homosexual partners. Or you could select everyone to search for both heterosexual and homosexual relationships at the same time. Bumble also lifts its restriction that women have to message first for same gender matches, either user can communicate first.
Tinder has allowed homosexual matching from the start as well, although you can only search for one gender of the male-female binary at a time. Tinder began adding a powerful new feature where users can explicitly state they're identifying gender as well as choose whether or not to reveal this information on their profile.
Plenty Of Fish allows for same gender relationships, but it's not very accommodating of them. like bumble it only allows for identifying as male or female and most of its advertising is directed towards heterosexual couples.
Our pick for our LGBTQ plus friends is tinder. tinder function for stating a specific gender and choosing whether to show it or not is a game-changer for inclusiveness in dating apps.
So which dating service is our top pick overall? We have to give it to bumble. It builds on what tinder does well with more forgiving matching features as well as a messaging system designed to cut down on one side and message overloads and ghosting.
It also accommodates non-heterosexual matching and even allow searching for non romantic relationships.
That does it for our comparison of Bumble, Tinder, and Plenty Of Fish for more details check out the corresponding article on CekPrinter.Com.
Thanks for reading. If you found this article helpful we'd love it if you'd read the more tutorial.
Source: Youtube.com/Techboomers